Did you know?
That Hunger kills more people every year than Aids, Malaria and Tuberculosis combined.
Thanks to word-of-mouth, Freerice is a well-known and well-played game with over a million registered players.
And, together, we have raised enough rice to feed millions of people. With over 2 billion people active online today, imagine what we could achieve if we all took time to "rice up" against hunger?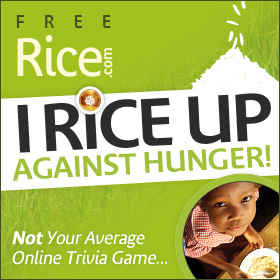 I know this is not one of my typical blogs but I found this website and I just wanted to share it
I started using freerice.com afew weeks ago and I really like it's fun and you get to learn something while helping people, in my opinion this is win, win situation.
We all can do something to end hunger let's join this amazing cause, click right
here
to register and start to "RICE UP".